OK, back to the #31DC2013 challenge. This prompt, Inspired by a Book, was a toughie for me. I think everyone who's done this challenge has experienced the anxiety of one prompt that just baffled & blocked creativity. I was surprised that this one presented an issue for me, as I love books! Oh well. After a lot of hullabaloo, I sought out a simple & classic design to "get it done" and move on. And, I'm happy to report success!
Can you guess which book was my inspiration? I hope you'll keep reading and find out.
Struggling to come up with a design about a book, I dug deep into memories of "way back when" I first started investigating nail polish/art blogs. This post by The Daily Varnish from August 2011, came to mind. Alli copied the design worn in the movie based on the book, Water For Elephants. (She's not the only one who notices nails in movies, LOL. )
Reese Witherspoon, as Marlena, wearing the popular
1930's "Reverse Moon" in red and gold on her fingernails.

So, even though these nails are directly from the movie, I do own the book and when reading it, I could imagine Marlena wearing these nails. Of course, I was curious about why this design was popular in that timeframe; but, also – how did the women create these designs 80 years ago? Idda van Munster answered my questions in her blog post, "Half Moon Vintage Nails". I found it very interesting that the half-moon design came about for practical reasons and yet they seem so rooted in high-fashion.
Design Details
Unlike the elegant and refined ladies who painted these classically styled nails by hand, I am a tom-boy without finesse. I used adhesive nail tip guides and scotch tape to make mine, following this process:
Base coat (one with some coverage for the naked moons). Wait till completely dry.
Working one nail at a time. Apply french tip guides at the base of nail, and paint 2 coats red cream polish. While still wet, carefully remove the guide.
To help protect & preserve polish (for next step), use a quick-dry top-coat. Wait till completely dry. And then wait longer.
Working one nail at a time. Apply straight piece of scotch tape leaving tip of nail exposed, and paint gold glittery polish. Remove tape immediately.
Seal all in with final top coat.
It was fairly quick and easy. Yet I find an almost embarrassingly elevated amount of joy with the tape technique. While lifting the tape, I get so excited to see the final result. Really. I am audibly giddy! Overall, I was mostly pleased with my application. Specifically, I found getting the round french tip guides centered and straight to be a little difficult. And, when applying the top coat (steps 3 & 5), I rushed it a little too much and had bleeding both with the red polish and the glitter on my ring and pinky – oops. None of these issues dampened my enjoyment though.
I think of red nail polish for formal occasions. THEY say wearing red nails can inspire confidence. I suppose it does. And, isn't that little mini polish bottle so cute! This red polish is no longer available. (A few years ago, it was a hand-me-down gift – THANK YOU!) This design could be done in lots of different color combinations too – any polishes you have might fit the bill.
Polish Palette
Polishes (L to R): Sephora – L10 Red, Orly – Luxe
Inspiration Source(s):
Book: Water For Elephants
Book cover image: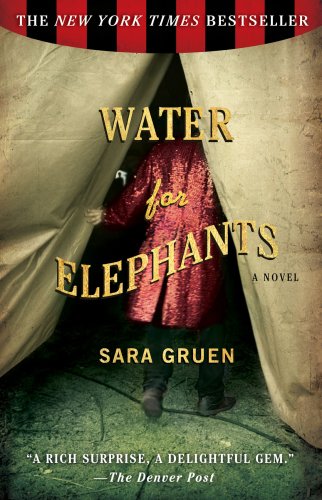 About the book – Water For Elephants: I have a hard time reading/watching stories that include cruelty to animals and/or captivity of wild animals. However, this story depicts a historical tale of Circus life during the Depression-era in America (and is probably showing it in a better light than it deserves). I found it easier to watch the movie than read the book. That said; my favorite element of the book is the narrator character, Jacob, who can't remember if he is 90 or 93 years old at the time he's telling the story. I enjoyed his perspective and empathized with his lack of acceptance of his current infirmity.
All in all, it is a great story with pictures from the author's research, including the Ringling Circus Museum. Coincidentally, I lived in Sarasota, Florida while attending college where part of the campus was the former estate of Charles Edward Ringling. Pretty cool, eh?
And, the "31 Design Challenge" (more info in my previous post here)
After today's design, I have "only" seven more to go!
Thanks for visiting!
Till next time,
Kimett